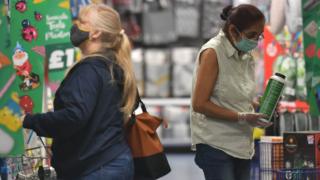 More than two million people shielding against coronavirus in most of England, Scotland and Northern Ireland can now leave their home and return to work.
Vulnerable people were advised in March to stay at home, or shield, to avoid contracting Covid-19. In Wales the advice stays in place until 16 August.
But Macmillan Cancer Support said people in the shielded group do not feel safe enough to leave their homes.
It comes after the PM applied the brakes to easing restrictions further.
Meanwhile, Graham Medley, a member of the Scientific Advisory Group for Emergencies (Sage), which advises the government, has said England could have to consider closing pubs in order to reopen schools in September.
And businesses that have furloughed staff during the coronavirus pandemic must now start contributing to the government's job retention scheme.
Those who have been shielding since March include people in high-risk categories, such as those who have had an organ transplant, are receiving immunosuppressant drugs, undergoing chemotherapy and radiotherapy, or have severe respiratory conditions.
Now, they can return to work if they cannot work from home and as long as their workplace is Covid-secure. It is still advised they maintain social distancing when outside.
From Saturday, those who were shielding in England, Scotland and Northern Ireland will no longer receive food boxes and medicine deliveries from the government.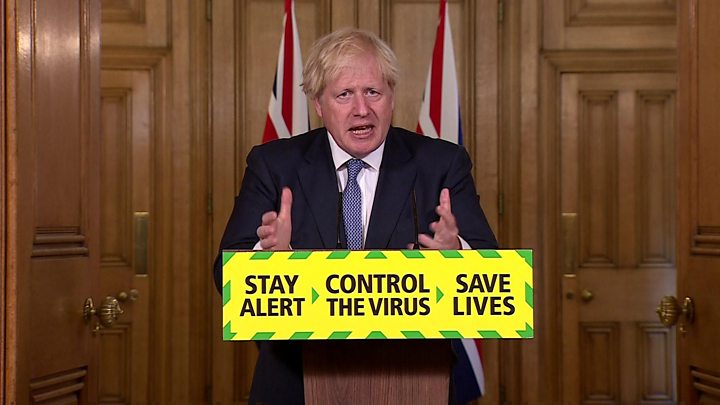 But shielding advice remains in place for Blackburn with Darwen in the north-west of England, Leicester and Luton, and the most vulnerable will continue to shield in Wales for another two weeks.
Eve Byrne from Macmillan Cancer Support said the organisation had written to the government over concerns shielders are having to "make the impossible choice" between their health and their job.
"People in the shielded group are telling us that they are just not feeling safe," she told the BBC, adding that the government needs to ensure the necessary protections are in place for people returning to work.
Matt Gibbon has been shielding with his wife, who is also his carer, at their home in Bradford and says it's "business as usual".
He had a double lung transplant in January 2019 and has cystic fibrosis. Mr Gibbon said they feel "it's just too risky" and "our infection rate in our specific area is climbing and is a little bit high".
"It's making us very worried about our safety," he says.
Norah Grant, who has chronic lymphocytic leukaemia and leads a support group for people under 60 with the condition, says the decision to end shielding was "very odd just considering everything that is happening in Manchester and all around".
"I don't think I will be changing my habits," she told BBC Radio 4's Today programme, adding that she will be able to work from home in one of her two jobs.
"A lot of people in our [support] group are very nervous about going back to work," she said.
Sara Swanson, who has an immune deficiency which means she cannot produce antibodies, said she would also continue to shield.
"I really don't think it is safe," she said. "There are a lot of people not following the rules.
"So for me it is safer to just stay at home."
She added that she will only be able to work "partially" from home, so it will impact her financially.
On Friday, Prime Minister Boris Johnson announced that the further easing of lockdown restrictions in England – due to come in this weekend – would be postponed for at least a fortnight.
It means that the following will not be able to take place until 15 August, at the earliest:
Labour's shadow health secretary, Jonathan Ashworth, said he supported the government's decisions on shielding and the lockdown restrictions.
But he told BBC Breakfast the "way in which the [lockdown] announcement was communicated" on Thursday night, "sort of dribbling out" without all the detail, "has caused a degree of confusion and anxiety".
The rethink on easing England's lockdown follows new restrictions for people in areas including Greater Manchester, east Lancashire, and parts of West Yorkshire after a spike in virus cases. The rules include a ban on separate households meeting each other inside their homes and private gardens.
A further 120 people have died with Covid-19 in the UK, according to the latest government figures, bringing the total number of virus deaths to 46,119. Meanwhile, 880 new lab-confirmed cases have been recorded – the highest in more than a month.
---
Are you getting married this weekend? Or were you reopening your business? How will the postponement affect you? Share your experiences by emailing [email protected].
Please include a contact number if you are willing to speak to a BBC journalist.
Related Posts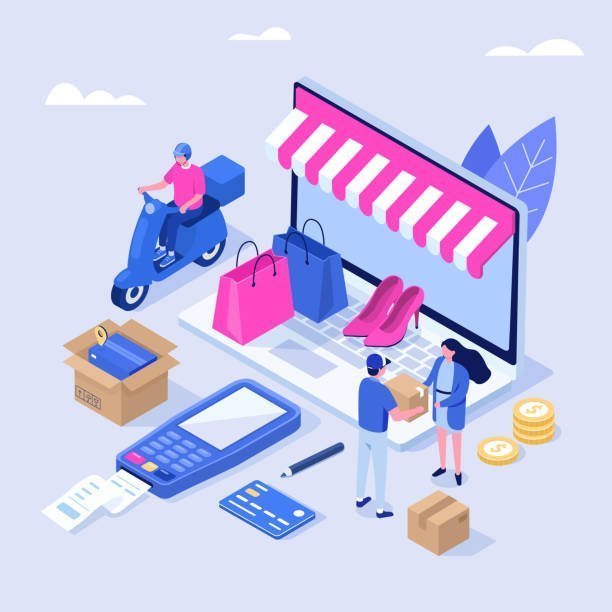 Online Income: How to Maximize Your Earnings from Home