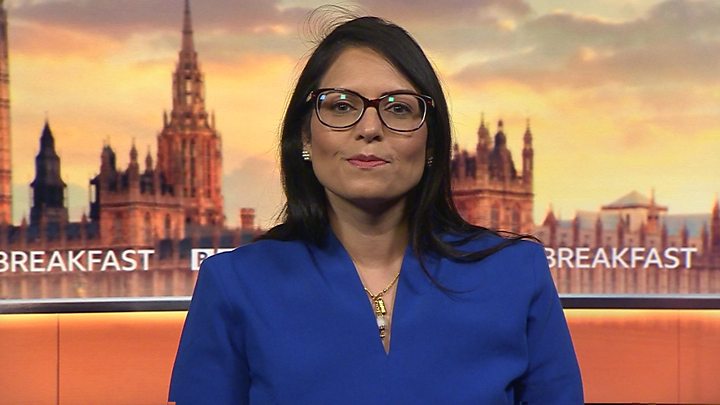 A lack of coronavirus tests for NHS staff is leading to staff absences and services being put at risk, hospital bosses have warned.
NHS Providers, which represents English hospital trusts, said staff are having to self-isolate because they cannot get tests for themselves or family members.
It comes after widespread reports of people struggling to get tested.
The home secretary said the government was "surging capacity" where it was needed.
The government's testing system – part of its test, track and trace operation which Prime Minister Boris Johnson promised would be "world-beating" – has faced criticism in recent weeks.
An increase in demand for coronavirus tests has led to local shortages, with some people being directed to test sites hundreds of miles from their homes.
Meanwhile, there have been fewer than 100 Covid-19 deaths in a week in the UK for the first time since March, according to Office for National Statistics figures.
There were 8,996 deaths were registered in the UK in the week of 4 September – 83 of those deaths mentioned coronavirus, the lowest figure since the week of 13 March.
'Working in the dark'
Around 220,000 tests are processed each day, according to government figures released last week, with a testing capacity of more than 350,000 – which includes swab tests and antibody tests. The aim is to increase that to 500,000 a day by the end of October.
Home Secretary Priti Patel told BBC Breakfast said: "I haven't said there's a shortage of tests, what I have said is that we're surging capacity in areas where we've had local lockdowns.
"Clearly there is much more work that needs to be undertaken with Public Health England and the actual public health bodies in those particular local areas, and as a government obviously we work with Public Health England to surge where there is demand in local hotspot areas."
Last week, Health Secretary Matt Hancock admitted there had been "challenges in access to tests" but said "the vast majority of people get their tests rapidly and close to home". He suggested demand from people who did not have symptoms was partly to blame for the shortages.
NHS Providers said hospitals in London, Bristol and Leeds had raised concerns over the weekend about staff absences because of a lack of testing.
Chris Hopson, NHS Providers chief executive, said it was "clear" there were capacity problems.
"It's not just access for tests for staff members themselves, it's also access for their family members as NHS workers have to self-isolate if their family members are unable to confirm if they have Covid-19 or not.
"The problem is that NHS trusts are working in the dark – they don't know why these shortages are occurring, how long they are likely to last, how geographically widespread they are likely to be and what priority will be given to healthcare workers and their families in accessing scarce tests."
Mr Hopson said trusts need to know more detail so they can plan accordingly, for example by creating their own testing facilities.
He said patients who are due to come in for treatment should also be prioritised for tests.
'I was meant to be seeing patients'
Some people say they booked tests online only to be turned away from testing centres because they were not sent a QR code – a barcode that can be scanned on a smartphone.
One doctor working in a coronavirus hotspot said she applied for a test for herself and her partner after they developed coughs and fevers.
After refreshing the website for five hours, she managed to get an appointment but on arrival was told no booking had been made.
She had taken screenshots of a confirmation code but was not sent a QR code to scan. "I showed the screenshots but I was told that the appointments weren't happening," she said.
"I have to say I burst into tears. I was meant to be seeing patients and I feel guilty."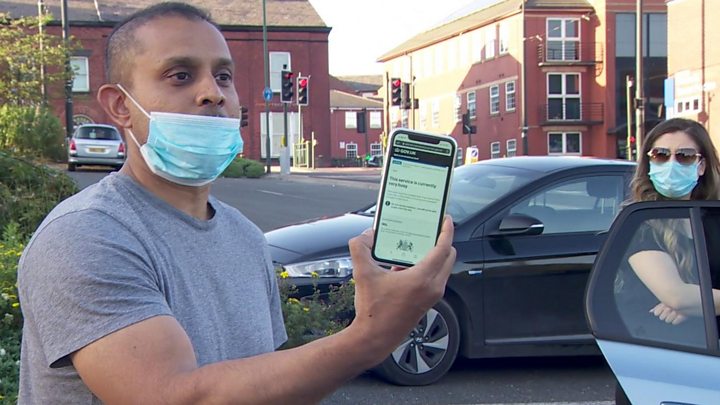 A nurse in the South West, whose daughter had a persistent cough and temperature, said he had almost been turned away despite having a test booked.
After hours of trying, he had "eventually" booked at a site about 50 miles away and been sent a confirmation but no QR code.
And on arrival at the testing site, he had been told he could not have a test. "I was told, 'There is nothing we can do,' at first," he said.
Eventually, he applied for the first testing appointment he could find anywhere in the country – in this case, about 500 miles away in Dundee – and managed to get a QR code.
By Rachel Schraer, BBC health reporter
NHS Providers said the lack of testing was also hindering preparations for the winter, when hospitals could become busier due to Covid-19 and seasonal flu.
Dr Rachel Ward, a GP in Newbury, told BBC Breakfast she was seeing a lot of patients who were struggling to get tests, saying a lot of families were "at the end of their tether" as it was "very stressful when you are faced with two weeks off work".
She said if the staff at her practice were unable to get tests and had to self-isolate it would have a "huge impact" on patients as some of their healthcare workers are booked in to administer 100 flu jabs in a day.
Shila Rawson, from Leicestershire, told the BBC she has been unable to get a test for her daughter, Leah, who has been displaying symptoms of Covid-19 since Sunday.
She said she was told by a 111 clinician, who was unable to arrange a test, "don't be afraid to call 999 if your daughter's lips turns blue and she has severe difficulty with breathing".
"I read that as wait and watch until our daughter is near enough to intensive care," she said. "And that is just not acceptable at any level."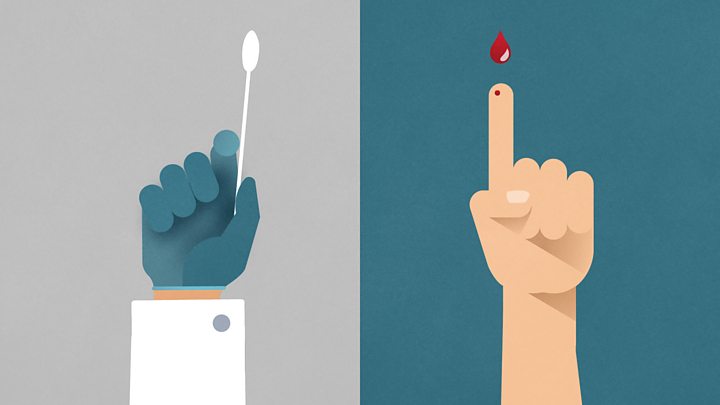 Prof Alan McNally, director of the institute of microbiology and infection at the University of Birmingham, who helped set up one testing centre – the Milton Keynes Lighthouse Lab – told BBC Breakfast there was "a perfect storm of events that have come together to almost essentially crash the testing system".
Asked about the situation in Birmingham, where new lockdown measures have come into force, he said it was "the exact same as we're hearing in other parts of the country… lots of people struggling to get tests and no real quantity of information on why that's the case".
'Fit for purpose'
One professor of medicine who has been advising the government has said that a "second wave" of Covid-19 has led to a surge in demand for tests.
Sir John Bell, of Oxford University, told BBC Radio 4's Today programme: "I think what has been underestimated was the speed at which the second wave would arrive, but also the pressure put on the system from children returning to school."
Meanwhile, the chairman of the British Medical Association has said the government should focus on the current testing system – rather than its "Operation Moonshot" plan which aims to see millions of tests processed every day by using a new type of test which is not yet rolled out.
"Down here on planet Earth, we need a fit for purpose test and trace system in the here and now with capacity, agility and accessibility that doesn't require 100-mile journeys that disadvantage some of the most vulnerable," the BMA's Dr Chaand Nagpaul is expected to say in a speech later on Tuesday.
Mr Johnson previously said a mass-testing programme could be ready by the spring and could help the UK to avoid a second national lockdown.
Are you an NHS staff member off work because you're unable to get a Covid-19 test? Share your experiences by emailing [email protected].
Please include a contact number if you are willing to speak to a BBC journalist. You can also get in touch in the following ways:
If you are reading this page and can't see the form you will need to visit the mobile version of the BBC website to submit your question or comment or you can email us at [email protected]. Please include your name, age and location with any submission.
Related Posts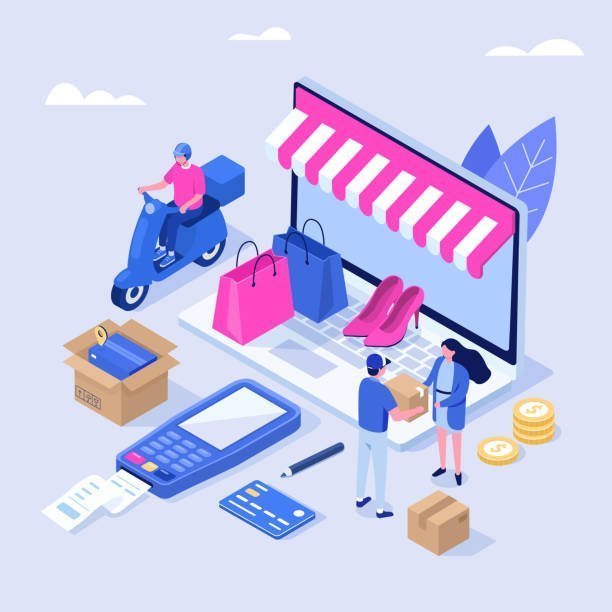 Online Income: How to Maximize Your Earnings from Home