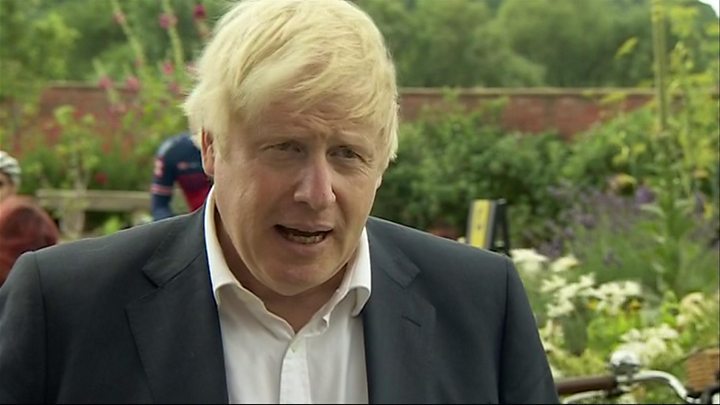 Boris Johnson has warned there are signs of a "second wave" of coronavirus in Europe, as he defended a 14-day quarantine on travellers from Spain.
The PM said the government had to be "swift" – and hinted at further action against other countries if necessary.
But airline Jet2 said information from the government was "contradictory and often comes with little or no notice".
It comes after the Spanish prime minister called the UK's decision to change the rules for Spain "unjust".
Pedro Sánchez said tourists in most regions in Spain would be safer from coronavirus than in the UK.
The UK is advising against all non-essential travel to Spain, including the Balearic and Canary Islands. It also removed Spain and its islands from the list of countries that are exempt from the 14-day quarantine rule.
Mr Johnson said it was up to individuals to decide whether they wanted to take the risk of travelling during the pandemic.
"These are decisions for families, for individuals, about where they want to go," he said.
Meanwhile, Germany has advised against travel to three areas of Spain.
Speaking during a visit to Nottinghamshire, the PM said: "What we have to do is take swift and decisive action where we think that the risks are starting to bubble up again.
"Let's be absolutely clear about what's happening in Europe, amongst some of our European friends, I'm afraid you are starting to see in some places the signs of a second wave of the pandemic."
It came as the UK reported a further 119 coronavirus deaths – taking the official number of deaths so far to 45,878 – but the daily figure is typically higher on Tuesdays due to delays in reporting deaths at the weekend.
An additional 581 positive cases have also been reported across the UK, a small dip on recent days.
'Stick with guidance'
Asked about reports in the Daily Telegraph that the 14-day period could be reduced, Mr Johnson said: "We are always looking at ways in which we can mitigate the impact of the quarantine.
"At the moment you have got to stick with the guidance that we are giving, we have given the guidance now about Spain and about some other places around the world."
When asked whether the 14-day quarantine period could be cut, transport minister Baroness Vere said the government was "looking at a range of options" including "testing people on certain days" after they arrive.
Ministers are also "certainly looking" at the idea of restrictions on travel to regions rather than whole countries, she said during an urgent question in the House of Lords.
Travel industry sources later told the BBC the government was close to backing a trial of double-testing arrivals from at-risk countries – allowing those who test negative twice a few days apart to leave quarantine early.
Mr Johnson said if the UK did see signs of a second wave in other countries, it was the government's duty to stop travellers returning and spreading the disease.
"It's vital that when people are coming back from abroad, if they are coming back from a place where I'm afraid there is another outbreak, they must go into quarantine," he said.
"That's why we have taken the action that we have and we will continue, throughout the summer, to take such action where it is necessary."
Scottish First Minister Nicola Sturgeon echoed Mr Johnson's concerns, saying "we are currently seeing a worrying resurgence of Covid" in European countries.
She warned potential travellers not to assume quarantine measures would remain the same at the time of booking a holiday as when they returned, adding: "I wouldn't be booking a foreign holiday right now."
The Department of Health said there had been a handful of suspected cases this month where a person had tested positive for the coronavirus after returning to the UK from Spain.
But it added these were not a factor in evidence presented to ministers and that the decision to reintroduce a quarantine for arrivals from Spain was taken because of rising infection rates there.
'UK error'
In an interview with the Telecinco TV network, Spain's Mr Sánchez said his government was "talking with British authorities to try to get them to reconsider" the decision.
He said the UK had made an "error" by considering the infection rate for the whole country.
He added that "64.5% of the new cases registered are in two territories" and in most of Spain the prevalence of Covid-19 was "very much inferior to the numbers registered in the United Kingdom".
The rate of infection in Spain is 47.2 cases per 100,000 people, while the UK is at 15, according to the latest figures from the European Centre for Disease Prevention and Control.
While the outbreak remains under control in many parts of Spain, certain areas – in particular Catalonia in the north-east, which includes the city Barcelona, and the neighbouring region of Aragón – have seen a huge spike in infections.
According to data from the Spanish government, as of Monday, the infection rates in the Balearic and Canary Islands were 9.22 and 7.06 per 100,000 respectively.
The same data showed infection rates in Catalonia, which includes Barcelona, was 132.4 per 100,000, and 28.21 in Madrid.
On Tuesday, the UK government added Estonia, Latvia, Slovakia, Slovenia and St Vincent and the Grenadines to the list of countries which are exempt from the quarantine rule.
Travellers returning to the UK from anywhere not on the list – including Spain – must self-isolate for 14 days at a registered address.
People who do not self-isolate can be fined up to £1,000 in England, Wales and Northern Ireland and those returning to Scotland could be fined £480, with fines up to £5,000 for persistent offenders.
Government sources told the BBC that there are no plans to introduce testing at airports, and the priority is to get walk-in centres up and running.
Some travel agents say they are struggling to understand the logic of the UK government's advice.
And MP Chris Bryant, who chairs the all-party parliamentary group for Spain, said: "Why the Canaries – which are further away from Barcelona than Barcelona is to the UK – are on the list as well as mainland Spain, I simply don't understand.
"And there are many, many regions of Spain which have much lower infection rates than many areas in the UK. I think this has been terribly badly handled."
Labour said the government's handling of the restrictions had been "chaotic", and urged it to step in to protect jobs in the travel industry.
Holiday companies Jet2 and Tui were among those to announce sweeping flight cancellations following the UK announcement.
"What we need now is clarity and consistency from the government," Jet2 said.
"We want to provide customers, who work hard and save hard for their well-deserved holidays, with timely information and we need this from the government."
EasyJet, British Airways and Ryanair said they would continue to operate full schedules of flights to Spain, though EasyJet said its holidays would be cancelled for the next few weeks.
Among the thousands affected by the change in travel advice and quarantine requirement was Jason Ward who was on holiday in Ibiza with his wife when he heard the rules had changed.
The couple, from Stevenage, in Hertfordshire, arrived on Saturday for a two-week holiday and now face having to self-isolate for the same amount of time when they return to the UK.
"Both of us are key workers and have worked through lockdown," Mr Ward told the BBC.
"We feel safer here then back at home."
He called on ministers to "remove the quarantine and allow the businesses here to have a chance to survive".
---
Have your travel plans been affected due to the new government advice? Have you returned to the UK and are facing problems due to quarantine? Are you still stranded in Spain? Share your experiences by emailing [email protected].
Please include a contact number if you are willing to speak to a BBC journalist.