By Lambert Strether of Corrente.
#COVID19
At reader request, I've added this daily chart from 91-DIVOC. The data is the Johns Hopkins CSSE data. Here is the site. Here are the four United States regions, plus US data.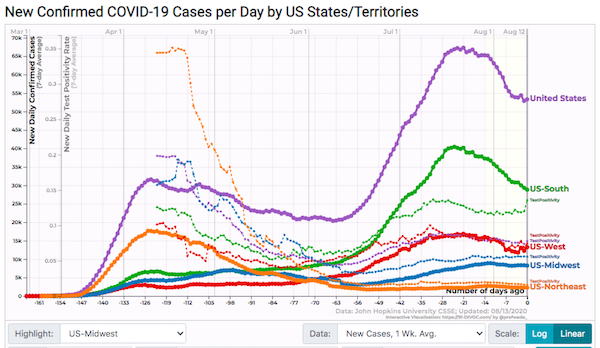 This chart also includes positivity, starting with the highest (worst): The South, the US as a whole, the West, Midwest, and the Northeast. Only the Northeast, at 1.85%, beats the WHO standard of 5%, although the Midwest, at 5.58%, approaches it. The United States as a whole is at 7.53%.
CA: "How a rush to reopen drove Los Angeles County into a health crisis" [Los Angeles Times]. "[S]uccess is often the enemy of public health. When the infection curve flattened in early May, elected officials believed it was safe to rapidly reopen the economy. Then it all went wrong. Los Angeles Times reporters reviewed months of public statements and documents from L.A. officials to understand the factors that set the stage for a resurgence of the coronavirus in June that ultimately killed more than 1,600 people. This timeline shows that after originally talking about beginning to reopen the economy as late as July, officials allowed thousands of businesses to unlock their doors in May. Local leaders seized the opportunity when California Gov. Gavin Newsom loosened reopening criteria. It appears to have happened too fast. Officials initially discussed opening businesses in waves, allowing a few weeks to pass between each round of reopenings. This plan was abandoned for a faster reopening." • To be fair, given the givens, this is inevitable. When commerce stops, tax revenue collapses for the states and localities (who are not currency issuers). Moreover, capital accumulation halts for business. All the pressures of the system are to open ASAP, regardless of public health implications, which are easily (and sometimes lucratively) rationalized away. There's no point blaming the poor schlubs on the beaches. They are not the drivers!
Politics
"But what is government itself, but the greatest of all reflections on human nature?" –James Madison, Federalist 51
"They had one weapon left and both knew it: treachery." –Frank Herbert, Dune
"They had learned nothing, and forgotten nothing." –Charles Maurice de Talleyrand-Périgord
The electoral map. July 17: Georgia, Ohio, ME-2 move from Leans Republican to Toss-up. Continued yikes. On July 7, the tossup were 86. Only July 17, they were 56. Now they are 91. This puts Biden at 278, i.e. over 270. August 10: Still no changes.
So, taking the consensus as a given, 270 (total) – 204 (Trump's) = 66. Trump must win 66 from the states in play: AZ (11), FL (29), MI (16), NC (15), PA (20), and WI (10) plus 1 to win not tie = 102. 102 – 66 = 36. So if Trump wins FL, MI, NC, and PA (29 + 16 + 15 + 20 = 80), he wins. That's a heavy lift. I think I've got the math right this time!
2020
Biden (D)(1): Biden announces Harris. It's only 1:26:

'Kamala, as you all know, is smart. She's tough. She's experienced. She's a proven fighter for the backbone of this country.' — Presumptive Democratic nominee @JoeBiden introduced Sen. @KamalaHarris to the nation as his running mate pic.twitter.com/9j5AGDcXLV

— NowThis (@nowthisnews) August 12, 2020

I was sent this by a level-headed person who commented: "Biden looks bad. I mean he looks terrible. everyone around him has to know he is not fit." I watched it first with the sound down, and it didn't seem any different from the usual Biden. Then I watched it with the sound up, and I have to say Biden seemed a little flat — nothing like his Corvette ad — but not too far below baseline. So my reaction was not so strong. But perhaps I'm too jaded; there's a lot of jading being done right now. Readers, what do you think?

Biden (D)(2): "Why Kamala Harris Matters to Me" [Manisha Sinha, New York Times]. "Her Indian background will also appeal to many Indian-American immigrants like me, if not to those who tend to be conservative and even racist in their views." • This drives me crazy, not because I have any objection to "background" of any kind, and not (heaven forfend) because I'm birther-adjacent and don't think Harris is ineligible to run, or isn't a "real American." Rather, I don't think that liberal Democrats, including those at the Times, can sell Harris as Black to the Blacks and Indian to the (subcontinental) Indians at the same time. Sinha alludes to a "cosmopolitan, interracial democracy" (presumably exemplified in Harris's person). Well and good; I'm with her. But that's not how the Democrat Party is set up, and that's not how they think. They conceive of identities as vertically siloed and mutually exclusive. That's how NGOs are set up. That's Democrat strategists talk. And that's how their assets in the press report the race. So, institutionally, intersectionality me no intersectionality; it's not happening. Why? Well, the dirty little secret of identity politics is that if you want a truly multiracial, multicultural, multinational, multigendered, multi-whatever, you go to the working class. You do not go to the PMC (the Democrat's present base) or to suburban Republicans (the base they seek to add).

Biden (D)(3): "Think Joe Biden Will Be the Next FDR? His Wall Street Donors Don't Seem To" [Jacobin]. "[Even discounting] Biden's entire political history, there's a much more basic reason to think that faddish comparisons to FDR won't be borne out in the form of anything transformative should he actually be elected president. As new reporting from the New York Times details, the former vice president is blowing Donald Trump out of the water when it comes to donations from the financial industry — financial interests have already chipped in some $44 million compared to Trump's $9 million. The contributions have been so vast that the Biden campaign is now reportedly demanding at least $1 million in donations from anyone who expects the candidate to appear at an event."

Biden (D)(4): "Low-income Americans could help oust Trump — if they show up" [Jonathan Capehart, WaPo]. "Poverty rarely, if ever, gets discussed on the presidential campaign trail. Barber notes this every chance he gets. But given the misery enveloping large swaths of the U.S.electorate, Trump and presumptive Democratic presidential nominee Joe Biden will have no choice but to address it. A report released Tuesday from Barber's Poor People's Campaign, Repairers of the Breach and the Kairos Center for Religions, Rights and Social Justice shows that the candidate who does could release an untapped well of votes. According to the report, of the 63 million poor and low-income Americans who are eligible to vote, 34 million did not cast a ballot in the 2016 presidential election. 'An increase of at least 1 percent of the non-voting, low-income electorate would equal the margin of victory in the 2016 presidential election in Michigan or a 4 percent to 7 percent increase in states such as Florida, New Hampshire, Pennsylvania or Wisconsin,' the study notes." • Let me know how that works out.

UPDATE Biden (D)(7): "Behind closed doors: How Biden's team weighed the VP candidates" [Los Angeles Times]. "'[Biden and Harris] had the right heart-to-hearts,' the senior official said. 'They came back to a place they always had, of affinity for one another, even a love.'" • Lordie.

UPDATE Biden (D)(6): "Kamala, Joe, And The Fissures In The Base" [NPR]. "Black women are the Democratic party; wherever Black women go, so goes the party."

Trump (R)(1): Another that requires sound:

— Donald J. Trump (@realDonaldTrump) August 13, 2020

I think Biden's Corvette ad was better. But this is a taste of what is to come, "golden hairs" and all.

Trump (R)(2): "Approve or Not, Trump Is Setting Unfavorable Downballot Conditions" [Charles Cook, Cook Political Report]. Lots of good polling data. But the bottom line is right at the end: "perhaps 70 percent of voters are likely to cast their ballots before Election Day, either by mail or in-person early voting. Automobile side-view mirrors have the disclaimer, 'Objects in mirror may be closer than they appear.' That could also be said about this election: It's closer than it appears." • Trump's gonna need a September surprise. That is extremely early for a (colorable claim of) a vaccine.

UPDATE Trump (R)(3): "Trump Is Hobbling the Mail the Old-Fashioned Way" [The Atlantic]. "If Republicans wanted to limit voter turnout and raise doubts about the election's integrity, creating chaos within the Postal Service and undermining its independence would be an efficient way to pursue that goal. Past efforts to politicize the mail service were overt. According to the 'spoils system' that President Andrew Jackson—whom Trump admires most among his predecessors—established soon after his election in 1828, the party that won the White House gained the right to award tens of thousands of postal jobs to its supporters, thus securing their loyalty and zeal. The postmaster general—inevitably a political crony and fixer eager to do the president's bidding—became a Cabinet member who oversaw this immense patronage scheme…. In 1970, President Richard Nixon finally ended the spoils system by signing the Postal Reorganization Act. The law turned what had been the Post Office Department into the modern USPS…. The financial crisis now threatening the Postal Service has deep roots. The trouble began after 2001, as email shrank the volume of first-class letter mail, and was compounded by the disastrous Postal Accountability and Enhancement Act of 2006. … The growing demand for voting by mail should be a reason to shore up the Postal Service and shield it from political interference, not force it to a halt."

* * *

Krystal Ball unloads on the Virginia Democrats:

Virginia readers, what do you think?

"QAnon supporter Marjorie Taylor Greene wins Georgia Republican primary" [BBC]. "Ms [Marjorie Taylor Greene], a businesswoman who owns a construction company with her husband, beat neurosurgeon John Cowan for the Republican nomination on Tuesday. She will face Democrat Kevin Van Ausdal in November but is widely expected to win in the conservative district. The controversial candidate has previously expressed support for QAnon – a wide-ranging, unfounded conspiracy theory that says that Donald Trump is waging a secret war against elite Satan-worshipping paedophiles in government, business and the media. In a YouTube video, she praised 'Q' – the pseudonymous figure who started the conspiracy theory – as a 'patriot.'" • Interesting to picture QAnon supporters and the Squad (say) interacting on the House floor:

Here's a thing I don't get. Say you're a QAnon believer who gets elected to Congress. Do you just…show up to the office every day with people you think are Satan-worshipping pedophiles?

— Kevin Roose (@kevinroose) August 12, 2020

"What is QAnon? How the conspiracy theory gained traction in 2020 campaign" [PBS]. "The QAnon conspiracy theory originated on 4chan in October of 2017, though it has its origin in Pizzagate. The basic premise is that a group of high-level military intelligence officials close to President Trump, QAnon followers believe, are sending out secret coded messages on these image boards about this great grand battle of good vs. evil, in which Trump and what they call the Q Team are working to destroy a global cabal of Satan-worshiping pedophiles, which the QAnon community believes is controlling everything. And that includes politician, entertainment and the media." • I don't want to be so open-minded that my brains fall out here, but first, we've had plenty of major pedophile scandals — the Catholic Church, the Boy Scouts, and the BBC come to mind, along with the extremely gregarious Jeffrey Epstein plus Speaker of the House Denny Hastert — and it's not all that cray cray to imagine pedophilia as an elite pastime (although a Satan-worshipping cabal is another matter). More centrally, I file QAnon as a form of symbol manipulation available to the relatively disempowered, very much unlike RussiaGate (another cray cray yarn diagram, but one propagated by the powerful that threatens war with a nuclear power) or mainstream economics (more cray cray than anything, and responsible for a lot of deaths through austerity, among other pathways). QAnon does remind one of, well, COINTELPRO. I wonder if any textual analysis has been done on Q's messages. It would be interesting to discover they were created by a committee, instead of an individual, for example). Oh well. Il faut cultiver notre jardin, where the squash create their own yarn diagrams, and cray cray is held at bay.

Yep:

Same people who were "you're not even a real democrat" in March are unitonically retweeting "republicans for Biden" and donating to the Lincoln project.

— Hillcrest Card Company (@HillcrestCardCo) August 12, 2020

UPDATE "A hard path for Susan Collins and 5 other takeaways from the BDN's Maine poll" [Bangor Daily News]. "House Speaker Sara Gideon held a 5-point lead over Sen. Susan Collins among likely voters in the closely watched U.S. Senate race. Freshman Rep. Jared Golden and former Vice President Joe Biden were up by even larger margins among registered voters in the poll, though Biden and President Donald Trump were virtually tied in the 2nd District….. Voters are far more favorable about the state of affairs in Maine than in the U.S. at large, with 58 percent saying things are on the right track here versus only 27 percent nationally. " • I don't know what to make of that! Maine's excellent response to Covid?

UPDATE College Democrat Morse smear continues to unravel:

Playbook Mass says the state party is launching an investigation into how the accusations against Morse came about pic.twitter.com/PbbVO7Iv8s

— Ryan Grim (@ryangrim) August 13, 2020

UPDATE "College Democrat Chats Reveal Year-Old Plan to Engineer and Leak Alex Morse Accusations" [The Intercept]. "The leadership of the University of Massachusetts Amherst College Democrats began discussing an operation they believed could sink the campaign of Alex Morse for Congress as far back as last October, a plan they then helped engineer and which came to fruition on Friday… Timothy Ennis, the chief strategist for the UMass Amherst College Democrats, admitted in the chats that he was a 'Neal Stan' and said he felt conflicted about involving the chapter of the College Democrats in a future attack on Morse. 'But I need a job,' concluded Ennis. "Neal will give me an internship." At the time, Ennis was president of the chapter, a post he held from April 2019 to April 2020, when he was term-limited out. Leaders of the College Democrats group went beyond merely plans to leak. They also explicitly discussed how they could find Morse's dating profiles and then lead him into saying something incriminating that would then damage his campaign."
Stats Watch
At reader request, I added some business stats back in. Please give Econintersect click-throughs; they're a good, old-school blog that covers more than stats. If anybody knows of other aggregators, please contact me at the email address below.
Unemployment: "08 August 2020 Initial Unemployment Claims Decline To 963,000 This Week" [Econintersect]. "Market expectations for weekly initial unemployment claims (from Econoday) were 1,100 K to 1,220 K (consensus 1,160 K), and the Department of Labor reported 963,000 new claims. The more important (because of the volatility in the weekly reported claims and seasonality errors in adjusting the data) 4 week moving average moved from 1,339,000 (reported last week as 1,337,750) to 1,252,750…. Of the 963,000 jobs lost this week, the BLS says 488,622 were due to the coronavirus (versus 655,999 last week)."
Imports: "July 2020 Import Year-over-Year Inflation Now -3.3%" [Econintersect]. "Year-over-year import price indices inflation remained in contraction and moved from -3.9% to -3.3%. Fuel prices and agricultural exports increased this month."
Rail: "Rail Week Ending 08 August 2020 – Good Recovery in Intermodal" [Econintersect]. "Week 32 of 2020 shows same week total rail traffic (from same week one year ago) contracted according to the Association of American Railroads (AAR) traffic data. Total rail traffic has been mostly in contraction for over one year – and now is recovering from a coronavirus pandemic…. Total rail traffic has two components – carloads and intermodal (containers or trailers on rail cars). Container exports from China are now recovering, container exports from the U.S. declined and remains deep in contraction. This week intermodal was in expansion year-over-year. However, carloads remain deep in contraction."
* * *
Tech: "Google to buy stake in ADT in home security push for $450 million" [Reuters]. "Alphabet Inc's (GOOGL.O) Google is picking up a 6.6% stake in ADT Inc (ADT.N) for $450 million, betting on the home security company's strong customer base and an army of technicians to drive sales of its Nest devices…. The investment gives ADT the backing of a high-profile technology partner and broadens its services business. In return, Google gets access to about 6.5 million customers, strengthening its presence as it competes with Amazon.com's (AMZN.O) Ring and Boston-based SimpliSafe, among others." • That's nice.
* * *
Today's Fear & Greed Index: 73 Greed (previous close: 73 Greed) [CNN]. One week ago: 73 (Greed). (0 is Extreme Fear; 100 is Extreme Greed). Last updated Aug 13 at 12:21pm Falling back to mere Greed from Extreme Greed. Disappointing!
The Biosphere
"Air pollution is much worse than we thought" [Vox]. "The evidence is now clear enough that it can be stated unequivocally: It would be worth freeing ourselves from fossil fuels even if global warming didn't exist. Especially now that clean energy has gotten so cheap, the air quality benefits alone are enough to pay for the energy transition. This conclusion has been reaffirmed by the latest air quality research, presented at a recent hearing of the House Committee on Oversight and Reform by Drew Shindell, Nicholas professor of earth science at Duke University (and a lead author on both recent IPCC reports)… Shindell's testimony reveals that the effects of air pollution are roughly twice as bad as previously estimated…. Importantly, many of the benefits can be accessed in the near term. Right now, air pollution leads to almost 250,000 premature deaths a year in the US. Within a decade, aggressive decarbonization could reduce that toll by 40 percent; over 20 years, it could save around 1.4 million American lives that would otherwise be lost to air quality." • Important and well worth a read.
UPDATE "The Effect of Leaded Gasoline on Elderly Mortality: Evidence from Regulatory Exemptions" [American Economic Review]. The abstract: "Leaded gasoline is still used globally for aviation and automotive racing. Exploiting regulatory exemptions and a novel quasi-experiment, we find that leaded gasoline use in racing increases ambient lead, elevated blood lead rates, and elderly mortality. The mortality estimates indicate that . Our setting allows us to rule out potential confounders, such as correlated pollutants or socioeconomic status. We provide the first causal estimates linking adult mortality to leaded gasoline, highlight the value of banning on-road leaded gasoline, and present policy-relevant cost estimates at the lowest ambient levels to date." • Only the abstract is available, so I don't know what the "novel quasi-experiment" is.
"'This land is all we have left': tribes on edge over giant dam proposal near Grand Canyon" [Guardian]. "Phoenix-based Pumped Hydro Storage LLC has received a preliminary permit from federal regulators for its Big Canyon Pumped Storage Project – a string of four huge dams near the Little Colorado River, along with reservoirs and a power-generation facility…. The project is the third Pumped Hydro has proposed in the Big Canyon region – the two previous ones received major pushback from tribes and environmentalists. If built, it would function as both a battery and station for generating up to 7,900 gigawatt-hours of electricity. It would pump groundwater up into four reservoirs, one of which would flood Big Canyon. That water would be stored as potential power, ready to be unleashed down canyons, through generators and toward the Little Colorado River when electricity is needed…. The Big Canyon project won't move forward without the Navajo government's approval and non-tribal entities are joining the chorus of criticisms. Even the US Department of the Interior has filed a comment, arguing the project could have adverse effects on the environment and cultural lands."
"With Biden-Harris Ticket Set, Climate Groups Demand 'Transformative Action From Day One' If Elected" [Common Dreams]. "Sunrise's Prakash vowed that 'our movement remains committed to defeating Trump and Pence this November and hope to hold her accountable in office—just like we will with Joe Biden.' 'Let's do our part to end this era of chaos and defeat Republicans up and down the ballot,' she said. 'Then, let's turn up to make a Biden-Harris administration lay the groundwork for a Green New Deal.'" • But above all, let's leave Richard Neal in place at Ways and Means!
"Mauritius seeks compensation after vessel blackens beaches with oil spill" [Straits Times]. "Mauritius is seeking compensation from the owners of the cargo carrier that run aground and spilled oil off its coast, causing the island nation's worst ecological disaster…. Mauritius now faces widespread pollution, threatening the livelihoods of communities that depend on the ocean. The island economy, which relies on tourists who flock to its white sand beaches, is already reeling from the coronavirus fallout and may be further affected by the spill."
Health Care
"A negative COVID-19 test does not mean recovery" [Nature]. "Eight months into the global pandemic, we're still measuring its effects only in deaths. Non-hospitalized cases are loosely termed 'mild' and are not followed up. Recovery is implied by discharge from hospital or testing negative for the virus. Ill health in those classed as 'recovered' is going largely unmeasured. And, worldwide, millions of those still alive who got ill without being tested or hospitalized are simply not being counted. Previously healthy people with persistent symptoms such as chest heaviness, breathlessness, muscle pains, palpitations and fatigue, which prevent them from resuming work or physical or caring activities, are still classed under the umbrella of 'mild COVID'. Data from a UK smartphone app for tracking symptoms suggests that at least one in ten of those reporting are ill for more than three weeks. Symptoms lasting several weeks and impairing a person's usual function should not be called mild. Defining and measuring recovery from COVID-19 should be more sophisticated than checking for hospital discharge, or testing negative for active infection or positive for antibodies. Once recovery is defined, we can differentiate COVID that quickly goes away from the prolonged form."
I should react to this in horror:
Ok, this is epic.

— Siddak Ahuja (@SiddakAhuja) August 12, 2020
But I would kinda like a mask like that. (In fact, I'm imagining a clear plastic, astronaut-style helmet!)
Black Injustice Tipping Point
"How early U.S. newspapers brokered slavery" [Journalist's Resource (TH)]. "Slave owners paid newspapers to publish advertisements that described the physical traits of slaves who had run away, offering rewards for their return. Those ads 'were a lucrative and consistent source of revenue' for newspaper printers, writes Jordan Taylor, visiting assistant history professor at Smith College, in a new paper published in the journal Early American Studies. But colonial newspapers weren't mere messengers for slavers. Taylor chronicles more than 2,100 unique ads from 1704 to 1807 that show newspaper publishers also acted as brokers, facilitating the buying and selling of up to 3,400 men, women and children as chattel. For most of that century or so, slave brokerage ads appeared primarily in Northern newspapers, Taylor finds in his paper, 'Enquire of the Printer: Newspaper Advertising and the Moral Economy of the North American Slave Trade.' 'Newspaper editors and printers jumped enthusiastically into brokering the slave trade,' he says. 'Journalists and members of the news media today should be reckoning with that.'"
Groves of Academe
"Math Problems for Faculty on Their University's Reopening Plan" [McSweeney's Internet Tendency]. "1. Your University requires all students to wear masks while in class, and faculty — not the administration — are expected to enforce this mandate. On the first day of the semester, three students in your class refuse to wear masks because "this is America." One student shows up in a Confederate flag mask, and another shows up in a "defund the police" mask. You ask them to leave and they refuse, reminding you that they are paying customers. Calculate the number of students who will be infected with COVID-19 after being involved in the ensuing multi-student fistfight."
Class Warfare
More from r/unemployment:
California. "toaster bath." Posts like these are increasing. If you are reading this and in need of help, call the National Suicide Prevention Lifeline: 1-800-273-8255 pic.twitter.com/ulAjm8rTEp

— Jeff Stein (@JStein_WaPo) August 12, 2020
Not seeing either major party speaking to this population.
News of the Wired
"Community gardens are cropping up at public libraries everywhere" [Shareable]. "My own research — including a survey of library gardens in the United States and Canada, and a collection of resources on the food-justice movement in public libraries — shows that community gardens are popping up across the country…. Most remarkable is that all this activity developed organically. No one at the state or national level told these librarians they should start doing this work. They just did it. And it may get easier still to just do it. Last summer the American Library Association published Libraries and Gardens: Growing Together, a book that validates the efforts of librarians gardening in their communities at the grassroots over the years. So if your library doesn't have a community garden, reach out to them. They may be more receptive than you think." • And to note the obvious, gardens are outside. The article also includes lots and lots of examples, and a potted history of community gardens. News you can use!
* * *
Readers, feel free to contact me at lambert [UNDERSCORE] strether [DOT] corrente [AT] yahoo [DOT] com, with (a) links, and even better (b) sources I should curate regularly, (c) how to send me a check if you are allergic to PayPal, and (d) to find out how to send me images of plants. Vegetables are fine! Fungi and coral are deemed to be honorary plants! If you want your handle to appear as a credit, please place it at the start of your mail in parentheses: (thus). Otherwise, I will anonymize by using your initials. See the previous Water Cooler (with plant) here. Today's plant (JU):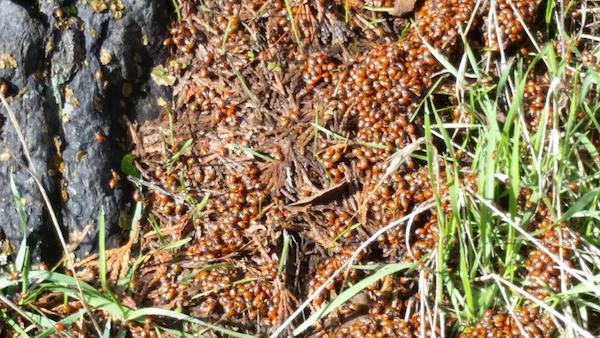 JU writes: "Here's a Manzanita tree loaded with ladybugs. Sometimes when we hike up here, we have to stop and turn around, because you'd kill 50 of them with each step forward, they're so thick." That seems… odd. Readers, have you noticed anything similar?
* * *
Readers: Water Cooler is a standalone entity not covered by the annual NC fundraiser. So if you see a link you especially like, or an item you wouldn't see anywhere else, please do not hesitate to express your appreciation in tangible form. Remember, a tip jar is for tipping! Regular positive feedback both makes me feel good and lets me know I'm on the right track with coverage. When I get no donations for five or ten days I get worried. More tangibly, a constant trickle of donations helps me with expenses, and I factor in that trickle when setting fundraising goals:
Here is the screen that will appear, which I have helpfully annotated.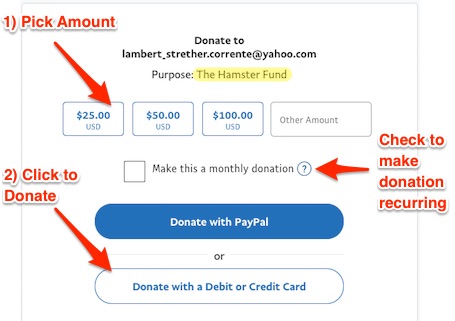 If you hate PayPal, you can email me at lambert [UNDERSCORE] strether [DOT] corrente [AT] yahoo [DOT] com, and I will give you directions on how to send a check. Thank you!