By Lambert Strether of Corrente
Patient readers, I just spent 45 minutes fighting to get iOS Apple Mail on my iPad to send me my own mail. Needless to say, this is time I do not have. (Apple's crapified mailer sends mail reliably for some days, then starts refusing to send it, complaining that the password is wrong — in which case it would not have been able to send the previous mail. Restarting the app doesn't do anything, but restarting the iPad works, so I go through a cycle of sending the mail thats stuck in the Outbox manually, restarting the iPad, rinse, repeat. (I've tried various shrew paths of approving settings, turning the VPN on and off, restarting the app, but nothing takes.) Can anyone recommend a reliable and hopefully free iOS mailer with this key requirement: I need it to grab something from the Tweet or post I am mailing myself, and put it in the subject line. That way I have a memory trigger for prioritizing when posting. Apple Mail meets this requirement, which is why I stick with that time-eating piece of garbage. Yahoo and Yandex do not. And on top of it all, my Internet connection as gone flaky again. Aaaargh! –lambert P.S. More soon.
Adding, yes, there will be a live blog for tonight's debate, launching at 8:30PM, a half hour before the debate proper begins. I think I'm gonna start drinking early. Who needs a Bingo card?
Bird Song of the Day
There seem to be a number of chickadees, fighting. Other happy creatures, from Chuck Roast's comment:
I just got two rescue cats. The vet says they are about five years old. They are siblings and clearly have had an up-and-down life. They came to me as Bukowski and Whitman…ugh. I was thinking of renaming them "Up' and "Down", but really didn't suit. So, they became Omar and Bodie after my favorite characters in The Wire. The first month I had them they hid in the closet and only came out for food and the box. It's four months on and we are totally cool and their demolition is low key. They now hang out with me on the lounge-o-rama, and I play the Water Cooler bird song for them every afternoon.
I'm pleased Omar and Bodie like the new feature! For their own, cat-like reasons, of course…
#COVID19
At reader request, I've added this daily chart from 91-DIVOC. The data is the Johns Hopkins CSSE data. Here is the site.
Here are the United States regions: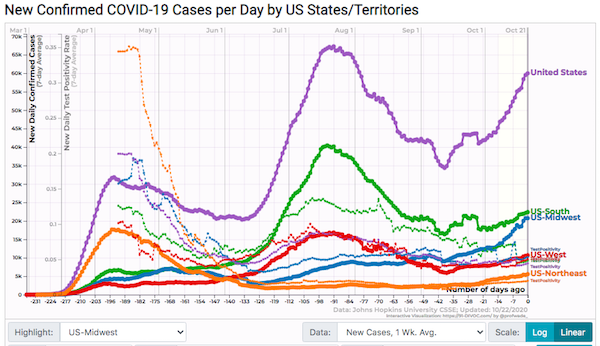 Still rising, if anthing faster. Gonna be interesting to see what happens if the virus is really cranking in November or December, and the FDA says a vaccine is ready…
Here are the Swing States as I conceive them (see below):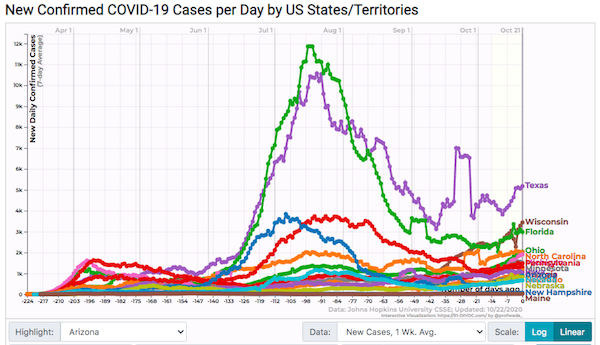 Unmistakable rise everywhere. Including Texas, which alas seems to have straightened out its data problem, in the past few days.
Politics
"But what is government itself, but the greatest of all reflections on human nature?" –James Madison, Federalist 51
"They had one weapon left and both knew it: treachery." –Frank Herbert, Dune
"They had learned nothing, and forgotten nothing." –Charles Maurice de Talleyrand-Périgord
The electoral map. July 17: Georgia, Ohio, ME-2 move from Leans Republican to Toss-up. Continued yikes. On July 7, the tossup were 86. Only July 17, they were 56. Now they are 91. This puts Biden at 278, i.e. over 270. August 18: Still no changes. August 31: Indiana moves from Likely to Safe Republican. September 9: No changes. September 14: No changes. September 21: No changes. September 22: Ohio moves from Toss-up to Leans Republican. September 25: Ohio moves from Leans Republican to Toss-up. September 30: Iowa moves from Leans Republican to Toss-up. October 3: Indiana moves from Safe to Likely Republican; Iowa moves from Toss-up to Leans Republican. October 6: Arizona moves from Toss-up to Leans Democratic; Iowa from Leans Republican to Toss-up; Indiana from Likely to Safe Republican; New Mexico from Likely to Safe Democratic. October 8: NE-2 moves from Toss-up to Leans Democratic. October 13: Indiana moves from Likely to Safe Republican. October 16: Indiana moves from Safe to Likely Republican. October 19: No changes. .
The election countdown:
Here is an early voting calendar. Maybe we'll have a whole series of October surprises, since election day is gradually being devalued as an event.
And here are mail-in voting ruies, which naturally differ state by state.
"2020 General Election Early Vote Statistics" [U.S. Elections Project (SlayTheSmaugs)].
"How to Vote in 2020: Everything You Need to Know" [Bloomberg]. "Casting a ballot in the U.S. isn't always easy, with a complex web of varying state rules governing how and when you can vote. The Covid-19 pandemic has introduced even more complexity in 2020, as many states have made significant changes to allow for more early voting or voting by mail. More changes could come as lawsuits in several states wind their way through the courts. That's why Bloomberg News is answering these critical questions so you'll know what you need to do to make sure your vote is counted in the 2020 election."
Here are is an enormous spreadsheet on voting equipment, so you can check your own jurisdiction (hat tip, UserFriendly. I should really aggregate these onto a map…).
"2020 General Election Early Vote Statistics" [U.S. Election Project].
"California Ballots Mailed and Returned Tracker" [Political Data]. • California only, sadly.
"Where's My Ballot?" [Alex Padilla]. "Tracking your vote-by-mail ballot—when it is mailed, received, and counted—has never been easier. The California Secretary of State is now offering Where's My Ballot?—a new way for voters to track and receive notifications on the status of their vote-by-mail ballot. Powered by BallotTrax, Where's My Ballot? lets voters know where their ballot is, and its status, every step of the way." • Ballottrax. Shoulda gone long….
"State Fact Sheets" [Georgetown Universitty]. "[F]act sheets for all 50 states explaining the laws barring unauthorized private militia groups and what to do if groups of armed individuals are near a polling place or voter registration drive."
All the deadlines, rules, and voting hours to know when casting your ballot in the 2020 presidential election" [Business Insider]. "Here are 12 interactive graphics, charts, and maps Insider created to answer your most common questions about voting in 2020."
2020
Swing States

Here is my list of Swing States, with votes in the Electoral College and selected ballot initiatives in parentheticals):

Arizona (11) (marijuana; taxes(=)
Colorado (9) (taxes, lottery, abortion, paid medical leave)
Florida (29) (minimum wage)
Georgia (16) (declaratory relief)
Iowa (6) (Constitional convention)
Maine-02 (1) (vax)
Michigan (16) (oil and gas royalties; privacy)
Minnesota (10)
Nebraska-02 (1) (payday lending; gambling)
Nevada (6) (marriage)
New Hampshire (4)
North Carolina (15)
Ohio (18)
Pennsylvania (20)
Texas (38)
Wisconsin (10)

Inspired by the thread starting with Arizona Slim's comment here, I went to Ballotpedia and added selected, hopefully hot button, ballot initiatives, because sometimes they affect turnout. If you live in a swing state, please comment if I got the hot buttons wrong!

* * *

Only one poll, but Morning Consult:

NEW: Joe Biden leads in the key battleground states of Colorado, Florida, Michigan, Minnesota, Pennsylvania, and Wisconsin while Donald Trump leads in South Carolina.

Arizona, Georgia, North Carolina, Ohio, and Texas are all within the margin of error. https://t.co/jLPH4hBZSn pic.twitter.com/He5cENonfA

— Morning Consult (@MorningConsult) October 22, 2020

FL: "Obama to campaign for Biden in Florida" [The Hill]. "Obama will seek to boost Biden's prospects in Florida, where polls show a close race between the former vice president and Trump. The president won Florida and its 29 electoral votes in 2016 by 113,000 votes, and the state is considered a must-win if Trump is to secure re-election. It will mark Obama's second appearance on the trail for Biden after he held events in Pennsylvania on Wednesday. A CNBC poll and a CNN poll released earlier Wednesday showed Biden leading in Florida by 5 percentage points and 4 percentage points, respectively. But there are signs the former vice president is underperforming with Latino voters compared to Hillary Clinton in 2016, a critical bloc in Florida."

FL: "Biden takes commanding 51-point lead over Trump among Florida Jewish voters, new poll shows" [Sun-Sentinel]. "The [GBAO research] poll, released Wednesday, shows Biden with a commanding lead over Trump among Jewish voters in Florida, 73% to 22% — a difference of 51 percentage points…. Among Jewish voters in Florida, Biden is viewed favorably by 67% and unfavorably by 26%, a net positive of 41 percentage points. Trump had 22% favorable and 74% unfavorable, a net negative of 52 points among Jewish voters…. Those who identify as Orthodox favor Trump over Biden, 62% to 36%."

MI: "In Michigan district, Trump factor could turn seat over to Democrats" [Roll Call]. "Polls show a tight race, with a large number of voters still undecided. Inside Elections with Nathan L. Gonzales rates the race a Toss-up. That would have been unthinkable a few years ago. Trump carried the district by 10 points in 2016, exceeding Mitt Romney's 7-point margin four years earlier. But Republicans' dominance disappeared in 2018, when Democrats in Michigan won all nonjudicial statewide races….. Democrats credit that swing to a growing population and shifting party loyalties. White people with a college degree have fled the GOP since Trump took office. • PMC dominance…

PA: "Donald Trump has a problem: White women in Pennsylvania" [Politico]. "White women with college degrees in Pennsylvania are especially done with him, rejecting him at even higher rates than they did in 2016. And while Trump is still winning white women without college degrees in the state, he's doing so by a much smaller margin than in 2016. In a place like Pennsylvania — a state Trump won by only 44,000 votes in 2016 and which is now widely considered the tipping-point state in the Electoral College — those margins matter… In 2016, Trump won white women in the state by 50 percent to Hillary Clinton's 47 percent, according to exit polls. Now, Biden is ahead by as much as 23 points with white women, according to a Quinnipiac survey from earlier this month. A Washington Post/ABC poll of Pennsylvania voters in September showed a similar lead, with white women preferring Biden by 13 points. Among suburban women overall, he's ahead by 18 points. In a Monmouth poll from late September to October, Biden led among Pennsylvania women overall by 26 points — and the large spread is also due Biden's overwhelming support among Black and brown women." •

PA: "Trump told a rally crowd in swing-state Pennsylvania that he was only there because of how badly his campaign is going" [Business Insider]. "President Donald Trump told supporters at a rally on Tuesday in Erie, Pennsylvania, that he never expected to have to campaign for their votes in person. 'Before the plague came in, I had it made. I wasn't coming to Erie. I mean, I have to be honest, there's no way I was coming,' Trump said. 'I didn't have to. I would've called you and said, 'Hey, Erie. You know, if you have a chance, get out and vote.' We had this thing won. Trump continued: 'We got hit with the plague, and I had to go back to work. 'Hello, Erie, may I please have your vote?"" • Borscht belt stuff, so of course the usual suspects clutched their pearls and headed for the fainting couch. (Notice also that the editor has written a deceptive headline. That's not at all what Trump said.)

WI: "Exclusive: Wisconsin report confirms Foxconn's so-called LCD factory isn't real" [The Verge]. "A state report on Foxconn's Wisconsin factory depicts a project gone far off course. The report, issued this month by Wisconsin's Division of Executive Budget and Finance and obtained through a records request, confirms that the company has not built the enormous Gen 10.5 LCD factory specified in its contract. It also says that the building the company claims is a smaller Gen 6 LCD factory shows no signs of manufacturing LCDs in the foreseeable future and 'may be better suited for demonstration purposes.' The report notes that Foxconn received a permit to use its so-called "Fab" for storage…."

* * *

Biden (D)(1): "Biden says he'll set up commission to study reforming Supreme Court if elected" [The Hill]. • Oh.

Biden (D)(2): Leadership:

Biden is propagandizing democratic voters to think that fracking is good. https://t.co/LAUf50LCgm

— Ryan Knight 🌹 (@ProudSocialist) October 21, 2020

Biden (D)(2): Because voters are little children (1):

I had never seen this clip before today, and now I'm sitting here wiping tears from my face. Joe Biden is a good man, and he is our only hope to heal and restore the soul of our nation. pic.twitter.com/l7IuFx75QV

— Michelle Kinney 🏴‍☠️ (@MichelleKinney) October 21, 2020

Empathy, like sincerity, an emotion shared by concentration camp guards and dictators in the bosoms of their families…

Biden (D)(3): Because voters are little children (2):

There is a deep, generational dysfunction in the Trump family. It reeks of sadness and anger and an overwhelming absence of love. That is why the Trumps keep attacking a loving family. They so long to have what they have missed.

— stuart stevens (@stuartpstevens) October 22, 2020

Biden (D)(4): Because voters are little children (3):

We lost two of our country's grandparents this year.

John Lewis & Ruth Bader-Ginsberg

Their lives were a testament to living for the purpose of building us a better future. 27/

— Andy Slavitt @ 🏡 (@ASlavitt) October 21, 2020

Because a nation… is really like a family. Which is why the Federal budget is like a household budget. Also, Kamala Harris, "birthday girl."

Trump (R)(1): "How The Polls Hide Trump's Lead" [The American Conservative]. "Two pollsters who got 2016 right think that the mainstream polls are wrong again, and although they grant that the election is very close, at this point they predict a Trump electoral college victory. Patrick Basham of the Democracy Institute predicted a Trump win in '16 and also got the Brexit referendum right as well. Basham, in his latest poll for 2020 predicts an easy electoral college victory for Trump with all battleground states ending up in Trump's column. Robert Cahaly of Trafalgar Group in his 2016 polls predicted the exact number of electors awarded to Trump. Now Cahaly predicts that most battleground states will go for Trump with an electoral college victory in the mid-270s. What both these pollsters are aiming to tackle is what is called social desirability bias in the polls. Social desirability bias is when a poll interviewee gives an answer to a question based on what he considers socially acceptable, rather than his true opinion on the subject. It has been observed that voters were more likely to choose Trump in a poll that felt more anonymous, such as a poll that used an automated, interactive voice response system instead of a live caller. Cahaly thinks that the social desirability bias is even more prevalent now than 2016. The people who were called deplorables in 2016 are now called racists and white supremacists. Groups like white women in the suburbs are particularly sensitive to those kind of charges. A percentage of them will give pollsters the socially acceptable answer, even if that is not their actual choice. This attitude might not change the winner of a particular demographic, such as white suburban women or working class blacks, but it could prove crucial in a close election." • Interesting…

UPDATE Trump (R)(2): "GOP power shift emerges with Trump, McConnell" [The Hill]. "With control of the White House and Senate at risk, some Senate Republicans are putting their own political livelihoods ahead of Trump's, making a case that donors should prioritize building a firewall in the Senate."
Realignment and Legitimacy
"California wants independent OK before distributing any coronavirus vaccine" [MarketWatch]. "California won't allow any distribution of new coronavirus vaccines in the nation's most populous state until it is reviewed by the state's own panel of experts, Gov. Gavin Newsom said Monday…. New York Gov. Andrew Cuomo last month appointed a similar independent task force…. While there is always a risk that the vaccine could be delayed only in California, Dr. Jeffrey Klausner, a professor of epidemiology at the UCLA Fielding School of Public Health, said Newsom named a renowned group that should be able to quickly make credible decisions…. The group includes current and former members of the federal Centers for Disease Control and Prevention's Advisory Committee on Immunization Practices, Klausner said, so any disagreement with the federal panel 'could have substantial impact on that particular vaccine product.'" • I'm inclined to frame this as straight-up nullification, a la "sanctuary cities," and to say that John C. Calhoun would approve. However, I don't know the law, and states and localities do have considerable control over public health, moreso than the Federal government.

"The Prophet of the Revolt" (interview) [Martin Gurri, The Pull Request (Chris)]. "the book shows the elites to be in a state of confusion bordering on panic. They are baffled by anything digital and utterly clueless about where all the nonentities shouting angrily outside their windows come from. But why? In the last century, two generations of elites tackled the Great Depression, World War II, and the Cold War, and came ahead on every count. They built the great dams and nuclear plants that electrified the country, and threw in the interstate highway grid for good measure. What has changed?" • Martin Gurri was formerly a member of CIA's global media analysis team.

"America's Great Divide: Frank Luntz Interview | FRONTLINE" [YouTube (Geof)]. • Grab a cup of coffee. Luntz is on the right, but he's very sharp (and, amazingly, he actually does listen to people).

I don't agree with everything Luntz says. But his perceptions and explanations are very crisp. "Politics isn't a game." Be sure to listen all the way through.

"A Message to Democrats from Your New Ally" [Stuart Stevens, The Bulwark]. "ve spent a lot of my life—far too much in retrospect—waging war on the Democratic party. It was my job and I was good at it but in all those battles, even in the toughest of races, I never hated the other side. I wanted to win each race with the heat of a thousand suns and when I did lose, I found it sickening in a way that hung with me longer than any victory. But I never feared for the country if the Democrats won…. Today's Republicans are not worthy of the great legacy they inherited." • To be fair, Stevens is not a Bush-era war criminal. So there's that.

* * *

"Signed, Sealed, Delivered—Then Discarded" [The Atlantic]. "Ohio, like 30 other states, uses signature matching as a fraud-prevention measure. Mangeni sometimes uses different signatures, and he didn't recall which one he had used to register. Under Ohio law, election officials are supposed to mail a notice to any voter whose ballot is rejected, giving them a chance to correct an error, but Mangeni said he never received a notification. His name did, however, go into a spreadsheet at the Ohio secretary of state's office, which is how the ACLU found it. Mangeni agreed to become a plaintiff in a suit challenging Ohio's signature-matching law." • Every time a layer of indirection is interposed between a voter and the direct expression of their intent, problems happen, whether digitally or in vote-by-mail. Hand-marked paper ballots (hand-counted in public) are the only solution that avoids this intrinsic, architectural problem. (I couldn't pass a signature-matching test; I can't make my signature come up the same twice to save my soul, especially under pressure.)
Barrett Confirmation
Good job, Diane:

Before the hearings, independent voters backed Barrett's confirmation by a 7-point margin.

Now they back Barrett's confirmation by a 20-point margin. pic.twitter.com/5gezbgedgt

— John McCormack (@McCormackJohn) October 21, 2020
Obama Legacy
Obama in Philly (1): Voter-shaming for the win:

Obama's diagnosis is that folks stayed home in 2016 bc they got "lazy" or "complacent."

— 💀🎃Briahna Joy Co-pay 🕸👻 (@briebriejoy) October 21, 2020

(The replies are good, too.)

Obama in Philly (2) [musical interlude]:

Barack Obama: "With Joe and Kamala at the helm, you're not gonna have to think about the crazy things they said every day. And that's worth a lot. You're not going to have to argue about them every day. It just won't be so exhausting."

— Kyle Griffin (@kylegriffin1) October 21, 2020

How was brunch? Then again, Obama knows his voters:

I'm counting the days until this election is over so I can try to ignore politics & go back to tweeting show-biz trivia, toddlers laughing & heartwarming animal-rescue videos like this one.#TwoWeeksToGo https://t.co/0u38qawvfT

— Mark Hamill (@HamillHimself) October 20, 2020

Obama in Philly (3): Patronize much?

Obama in Philadelphia: "The answer for young people, when I talk to them, is not that voting makes everything perfect, it's that it makes things better."

— Kyle Griffin (@kylegriffin1) October 21, 2020

"Obama's speech in Philadelphia was powerful. But America needs more from him." [MSNBC]. "Should Obama re-enter the Senate, more than a decade after he left, he'd have the chance to be the workhorse that his former rival-turned-colleague Hillary Clinton became after she crossed over from the other end of Pennsylvania Avenue." • Oh, no. Please. no. Start with the idea of Obama becoming a workhorse.
Our Famously Free Press
Stats Watch
At reader request, I added some business stats back in. Please give Econintersect click-throughs; they're a good, old-school blog that covers more than stats. If anybody knows of other aggregators, please contact me at the email address below.
Unemployment: "17 October 2020 Initial Unemployment Claims Improve – Downward Revision Of Previous Two Weeks Of Claims" [Econintersect]. "Market expectations for weekly initial unemployment claims (from Econoday) were 845 K to 915 K (consensus 868 K), and the Department of Labor reported 787,000 new claims. The more important (because of the volatility in the weekly reported claims and seasonality errors in adjusting the data) 4 week moving average moved from 832,750 (reported last week as 866,250) to 811,250."
Manufacturing: "October 2020 Kansas City Fed Manufacturing Marginally Improves" [Econintersect]. "Of the three regional manufacturing surveys released for October, all are in expansion…. Kansas City Fed manufacturing has been one of the more stable districts. Note that the key internals were positive. This survey should be considered about the same as last month."
Leading Indicators: "17 October 2020 New York Fed Weekly Economic Index (WEI): Index Improves" [Econintersect]. "The New York Fed's Weekly Leading Index (WLI) continues to show an economy that is below the worst seen during the Great Recession. However, this index remains on a recovery trend…. This data set should be considered a high-frequency coincident indicator on a par with the Aruoba-Diebold-Scotti Business Conditions Index produced by the Philly Fed – and both show conditions caused by the coronavirus pandemic are already worse than the Great Recession. However, the Aruoba-Diebold-Scotti Business Conditions Index is improving whilst the WLI is still declining. Logic would say with the partial reopening of the economy – the Aruoba-Diebold-Scotti Business Conditions Index seems to be correct."
* * *
Retail: "Target is giving 350,000 workers an extra $200 bonus for the holidays" [Yahoo Finance!]. "The discount retailer said Monday it will pay a bonus of $200 to frontline employees ahead of the holiday shopping season. Bonuses will be paid to more than 350,000 workers in early November. The total outlay will cost Target more than $70 million. Target says this is the fourth time it has given workers a bonus this year to show appreciation for efforts during the COVID-19 pandemic."
The Bezzle: "Elon Musk's Vegas loop won't transport as many people as promised" [The Verge]. "The choke point isn't technology — it's fire regulations. In one of the three loading zones for the tunnel network, called the Convention Center Loop, only 800 passengers an hour are allowed. If that's true of all three loading zones, the Loop will only move about a quarter of what it promised: just 1,200 people an hour, according to TechCrunch. It's unclear what might be enforcing that limit of 800 passengers, as the plans don't include any turnstiles or barriers that could help control the flow of passengers. There are financial consequences if The Boring Company can't actually shuttle as many people as promised with the Convention Center Loop. It may miss out on more than $13 million of its construction budget. It will also be penalized $300,000 for every trade show that it doesn't move an average of 3,960 passengers per hour for 13 hours, to a maximum of $4.5 million in fines, according to TechCrunch. The Loop is also behind schedule."
Supply Chain: "Huawei Outhustles Trump by Stockpiling Chips Needed for China 5G" [Bloomberg]. "Huawei Technologies Co. quietly spent months racing to stockpile critical radio chips ahead of Trump administration sanctions, ensuring it can keep supplying Chinese carriers in their $170 billion rollout of 5G technology through at least 2021."
* * *
.
Today's Fear & Greed Index: 64 Greed (previous close: 58 Greed) [CNN]. One week ago: 56 (Greed). (0 is Extreme Fear; 100 is Extreme Greed). Last updated Oct 22 at 11:52am
Today's Fear & Greed Index: Weird: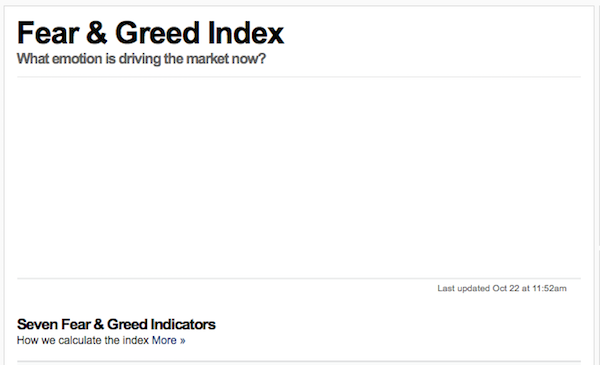 Mr. Market is not having a sad, so I would guess there's no issue of their systems being overwhelmed.
The Biosphere
"NASA to Make Major Announcement of 'Exciting News' About The Moon" [Independent]. "The space agency did not reveal details about the discovery but said that it 'contributes to Nasa's efforts to learn about the Moon in support of deep space exploration.' It also said that the discovery had come from the Stratospheric Observatory for Infrared Astronomy, or Sofia. Sofia is a modified Boeing 747 that flies higher than much of the atmosphere, allowing its built-in, 9-foot telescope to get a clear view of our solar system and the broader universe. The plane is able to get up above 99 per cent of the atmosphere's water vapour, which normally obscures our view of space. The telescope instruments at the centre of the flying observatory gather infrared light, meaning it can 'pick up phenomenon impossible to see with visible light,' NASA noted in its announcement."
Health Care
"CDC redefines COVID-19 close contact, adds brief encounters" [Associated Press]. "For months, the Centers for Disease Control and Prevention said close contact meant spending a solid 15 minutes within 6 feet of someone who tested positive for coronavirus. On Wednesday, the CDC changed it to a total of 15 minutes or more — so shorter but repeated contacts that add up to 15 minutes over a 24-hour period now count. The CDC advises anyone who has been in close contact with a COVID-19 patient to quarantine for two weeks."
"Herd Immunity and Implications for SARS-CoV-2 Control" [JAMA]. From the Conclusion: "Herd immunity is an important defense against outbreaks and has shown success in regions with satisfactory vaccination rates. Importantly, even small deviations from protective levels can allow for significant outbreaks due to local clusters of susceptible individuals, as has been seen with measles over the past few years. Therefore, vaccines must not only be effective, but vaccination programs must be efficient and broadly adopted to ensure that those who cannot be directly protected will nonetheless derive relative protections." • Well worth reading in full.
"The false promise of herd immunity for COVID-19" [Nature]. "The concept of achieving herd immunity through community spread of a pathogen rests on the unproven assumption that people who survive an infection will become immune. For SARS-CoV-2, some kind of functional immunity seems to follow infection, but 'to understand the duration and effects of the immune response we have to follow people longitudinally, and it's still early days', [Caroline Buckee, an epidemiologist at Harvard T.H. Chan School of Public Health] says." • No duh!
I follow and like Eric Topol, but:
A new deadly virus is sequenced in January.
Multiple vaccines are designed.
Trials of > 30,000 participants complete enrollment by October.
This represents an extraordinary biomedical research triumph. And that's an understatement. https://t.co/aqu6sKNsbc

— Eric Topol (@EricTopol) October 22, 2020
No mention whatever of Operation Warp Speed. Where does Topol think the funding came from? Little elves?
"COVID Has Caused Millions to Lose their Sense of Smell—One Writer's Journey to a Scentless Life and Back" [Vogue]. "Every smell scientist I spoke to for this story echoed some version of this sentiment: that smell is under­appreciated and misunderstood, and most people fail to recognize how integral it is to our experience of pleasure, our emotional lives, and even, on a fundamental level, our identity. But there are many studies demonstrating profound links between anosmia (the clinical term for smell loss) and clinical depression. One such study, recounted in Rachel Herz's The Scent of Desire, compared the psychological effects of vision loss and smell loss, and yielded startling results: While patients who lost their vision were initially more traumatized, over time they acclimated more significantly than the patients who had lost their sense of smell—who, a year later, actually reported a more enduring decrease in their quality of life than the patients who had gone blind."
Our Famously Free Press
L'Affaire Joffrey Epstein
"Epstein: Ghislaine Maxwell denies witnessing 'inappropriate' activities" [BBC]. "Asked if she was aware of any non-consensual sexual acts between Epstein and masseuses, she replied: 'All the time that I have been in the house I have never seen, heard, nor witnessed, nor have [had] reported to me that any activities took place, that people were in distress, either reported to me by the staff or anyone else.'"
Class Warfare
Forcing workers to twist the rope with which to hang themselves:
DoorDash has sent several million pro-prop 22 food delivery bags to restaurants. DoorDash gig workers then have to deliver food to customers in bags with prop-22 ads on the side. pic.twitter.com/zKXFjAvasN

— Sam Harnett (@SamWHarnett) October 20, 2020
News of the Wired
"A sneak peek at Tales from the Loop author Simon Stålenhag's next two art books" [Polygon]. "In the world of The Labyrinth, the surface of the Earth has been covered with ash. Some of that is due to the destruction of the habitat itself by the human population, but most of it is the result of an invading force seeking the transform the planet to meet its own needs. In many frames you can see them — black orbs, leaking black goo into the air and over the land." • Great metaphor….
* * *
Readers, feel free to contact me at lambert [UNDERSCORE] strether [DOT] corrente [AT] yahoo [DOT] com, with (a) links, and even better (b) sources I should curate regularly, (c) how to send me a check if you are allergic to PayPal, and (d) to find out how to send me images of plants. Vegetables are fine! Fungi and coral are deemed to be honorary plants! If you want your handle to appear as a credit, please place it at the start of your mail in parentheses: (thus). Otherwise, I will anonymize by using your initials. See the previous Water Cooler (with plant)
here
. Today's plant (TH):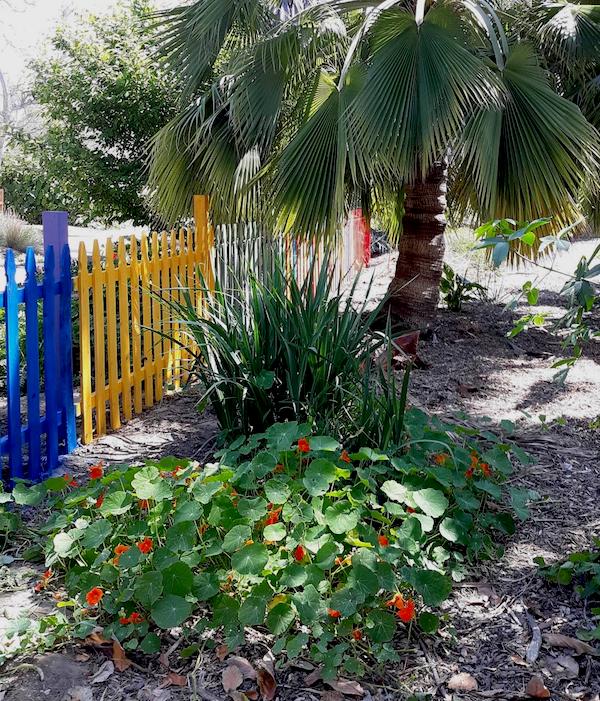 TH: "This photo of Nasturtiums was taken at the Fullerton arboretum with my iPhone. We are outside the Children's Garden which the colorful picket fence surrounds."
* * *
Readers: Water Cooler is a standalone entity not covered by the recently concluded and — thank you! — successful annual NC fundraiser. So if you see a link you especially like, or an item you wouldn't see anywhere else, please do not hesitate to express your appreciation in tangible form. Remember, a tip jar is for tipping! Regular positive feedback both makes me feel good and lets me know I'm on the right track with coverage. When I get no donations for five or ten days I get worried. More tangibly, a constant trickle of donations helps me with expenses, and I factor in that trickle when setting fundraising goals:
Here is the screen that will appear, which I have helpfully annotated.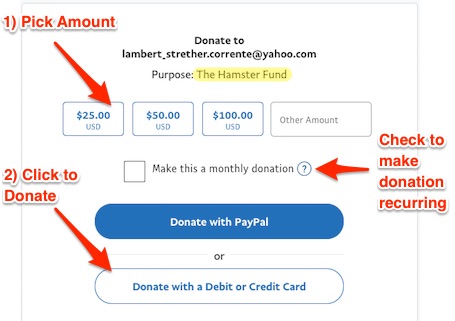 If you hate PayPal, you can email me at lambert [UNDERSCORE] strether [DOT] corrente [AT] yahoo [DOT] com, and I will give you directions on how to send a check. Thank you!

Related Posts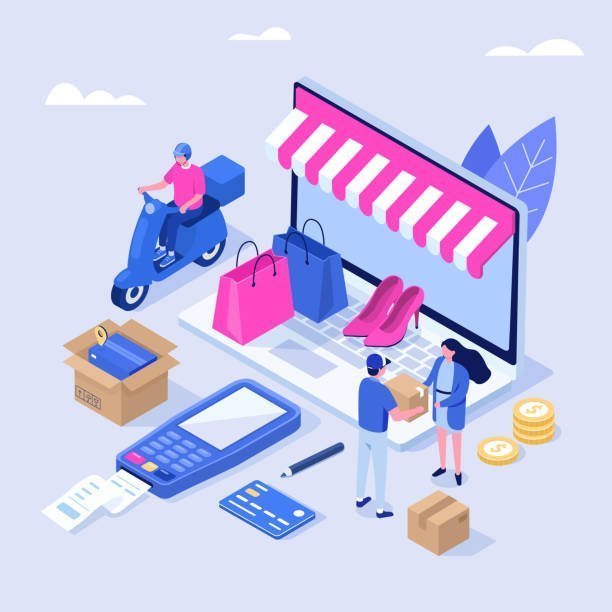 Online Income: How to Maximize Your Earnings from Home