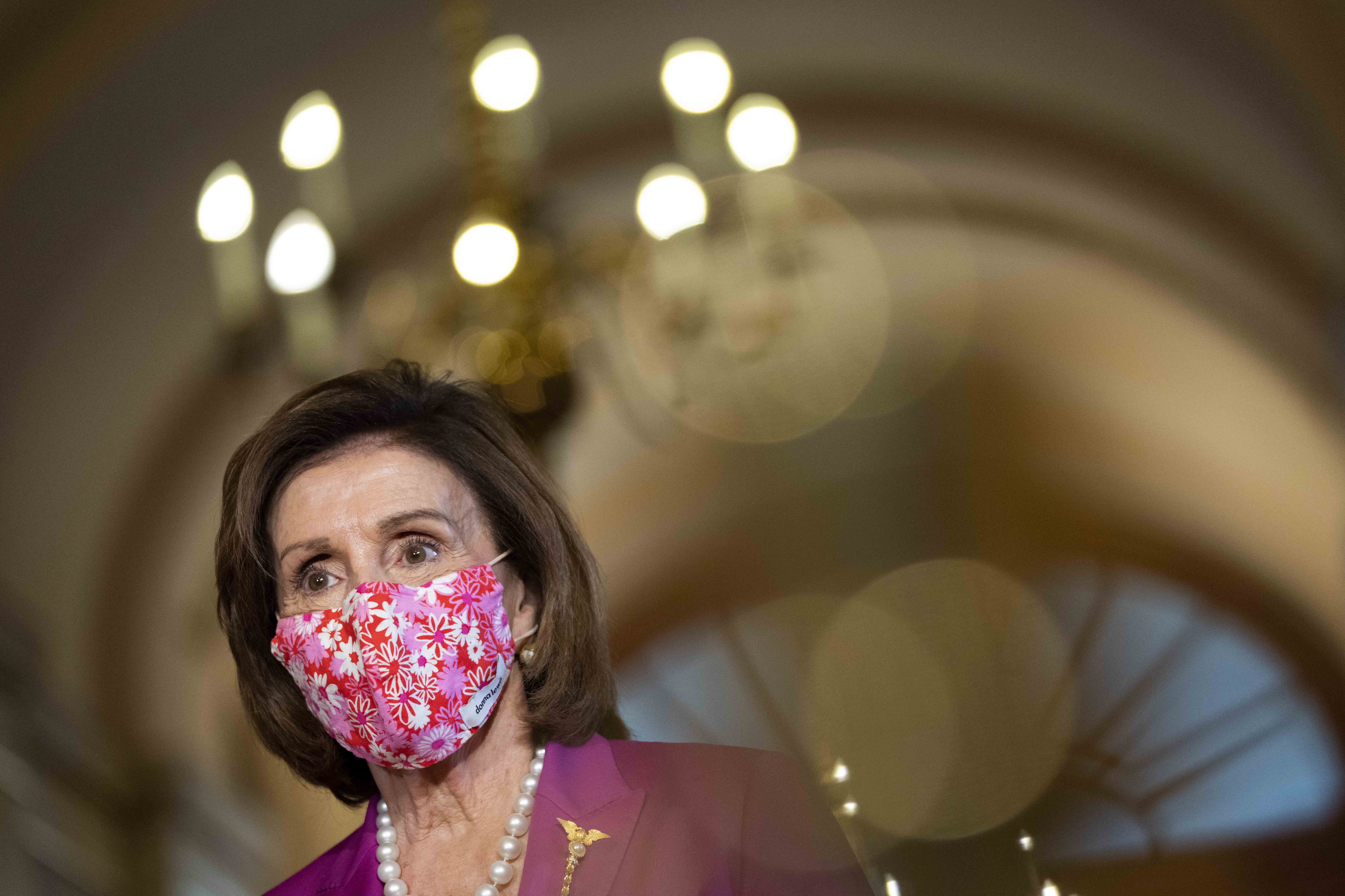 The White House on Monday again shot down Hill Democrats' calls for the Centers for Disease Control and Prevention to unilaterally extend the nationwide eviction moratorium that expired this weekend, saying the agency doesn't have the legal authority.
Less than 24 hours after House Speaker Nancy Pelosi and other Democratic leaders pressed President Joe Biden to act, the White House said that while it could not extend the ban, it would look for "every potential legal authority" it has to prevent evictions.
Gene Sperling, a White House adviser and American Rescue Plan coordinator, told reporters that Biden has "double, triple, quadruple checked" what authority the administration has to halt evictions.
"We are still investigating what that legal authority is," Sperling said. "Whatever it is in the power of this president to do to prevent evictions, he is committed to doing."
Biden asked the CDC on Sunday to look at whether it "could do a targeted eviction moratorium that just went to the counties that have higher rates" of coronovirus cases, said Sperling. But the CDC has "been unable to find the legal authority."
The administration said it will direct its policy and legal teams to work with federal agencies to reexamine what powers agencies have to stop evictions. It is also calling on state and local governments to extend or institute their own bans, challenging landlords to hold off on evictions for 30 days and directing the Treasury Department and other agencies to continue examining why state and local governments have struggled to distribute billions of dollars in federal rental assistance funds.
The White House and House Democrats have engaged in a round of finger-pointing after the administration waited until three days before the moratorium deadline to ask Congress to extend it. Despite rising Delta variant cases, the White House did not ask Congress to pass a ban last month, leaving Pelosi little time to whip votes before the August recess. But she couldn't marshal the votes in her own caucus: More than a dozen House Democrats balked at proposed legislation to extend the ban, and Republicans blocked an attempt to pass an extension by unanimous consent. It's unlikely that there are 10 Republican votes in the Senate.
Pelosi said she welcomed the administration's pledge to try to find legal authority to prevent evictions.
"For the good of families on the verge of eviction, my Democratic House colleagues and I are hopeful that this initiative to extend the moratorium will be successful as soon as possible," Pelosi said in an emailed statement.
"In addition, I am pleased that the president is urging the states and municipalities to distribute the $46.5 billion that Congress allocated" to help struggling tenants pay back rent, she said.
House Democratic leaders on Sunday night had urged Biden to direct the CDC to extend the ban despite the potential for future legal challenges, and top Democrats showed no signs of relenting on Monday.
House Whip Jim Clyburn repeated his call for the administration to extend the ban even as the White House was releasing its statement Monday afternoon.
Pelosi told House Democrats earlier Monday that Treasury Secretary Janet Yellen will brief them Tuesday morning on the distribution of federal rental assistance. State and local governments, with oversight from Treasury, disbursed just 6.5 percent of the money in the first six months of the year, amplifying fears that millions of Americans were at risk of homelessness without the eviction ban in place.
Clyburn noted in a call with reporters Monday that some states — including Texas, Virginia and Massachusetts — have done a good job of getting assistance out the door.
"The success of these programs shows that slow-distributing states can dramatically improve," he said.
Pelosi also directed members, who departed Washington on Friday until September, to press state and local officials to speed up the disbursement of the funds to tenants and landlords as Hill Democrats waited for Biden to revive the eviction moratorium. Pelosi made the case that Congress would not be able to intervene, after legislation to extend the ban stalled in the House and was expected to fail in the Senate.
"We all agree that the eviction crisis is an enormous challenge to the conscience of our country," Pelosi said. "But the House passing the eviction moratorium without the Senate acting does not extend the moratorium. Instead, the money must flow, and the moratorium must be extended by the administration."
The White House announced last Thursday that it was letting the CDC's eviction moratorium expire Saturday because of concerns that it would be struck down in court without Congress passing new legislation. Administration officials have said that additional lawsuits brought against the CDC could ultimately gut the agency's ability to institute future moratoriums based on public health conditions.
Pelosi failed to muster votes for a House bill last week as more than a dozen Democrats revolted. Landlords lobbied against the moratorium because they said it cost them billions of dollars each month.
Pelosi, who with her leadership team has asked Biden to extend the ban through Oct. 18, received support Monday from the Congressional Black Caucus, which warned that thousands of Black families and children could lose their homes as Covid-19 surges.
CBC Chair Joyce Beatty (D-Ohio) said in a statement that the group had been in touch with the White House and House leadership throughout the last 48 hours to figure out a way to extend the moratorium.
"The virus is still a threat, and the moratorium must be extended, and the funds Congress allocated to assist renters and landlords must be spent," Beatty said. "An extension of the moratorium is based on public health and the Delta variant. It will also give more time to allow the money that Congress allocated to finally flow."
Some Democrats said they were wary of a further extension.
"We need a long-term solution, and look, here's the challenge: If you extend the moratorium, what happens is people's back-due debt grows larger and larger and larger," Sen. Tim Kaine (D-Va.) said Monday morning on MSNBC. "And so I know some want to extend the moratorium through the end of the year. OK, then their debts will be higher and what, we'll have them be evicted in January?"
Kaine added: "What I'm focused on is a big investment in rental relief."
The deadlock in Washington left some state and local officials rushing to avert a wave of evictions. A judge for Georgia's DeKalb County ordered a 60-day countywide eviction moratorium to fill the void after the nationwide ban lapsed.
Massachusetts Gov. Charlie Baker sought to reassure the public that his administration had a handle on the situation in the state.
"We do have one of the more robust eviction diversion programs in the country, which we've been running since last fall when the state's eviction moratorium expired," Baker said at a press conference Monday. "That made it possible for us to take a lot of the federal assets that have been made available through federal legislation and literally just put it toward that particular program."
"I think we're pretty well-positioned to make sure we help people deal with some of these issues and consequences," he added.
Lisa Kashinsky contributed to this report.
Read more: politico.com